Recent Guest Speakers
Jessica DeCerce
Governor's Representative, CNY Region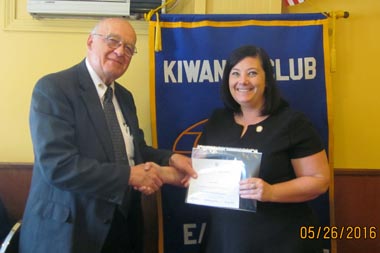 Jessica DeCerce lives locally in East Syracuse, NY. She shared Governor Andrew Cuomo's Upstate Revitalization Initiative with us. It is a plan for economic development in 5 counties including Onondaga. The Attorney General obtained a $1.5 billion bank settlement. The Governor wants to stimulate the upstate economy. Regional economic councils were established and submitted plans. Three regions each received $500,000. The 3 winning plans are named Finger Lakes Forward, Southern Tier Soaring, and CNY Rising.
Natalie Rodrigues, Secretary
Engineering For A Sustainable Society
Sanitation Fund Raising Project In Guatemala
A Project From Engineers Without Borders

Ernie Wass, Secretary, presents a certificate of appreciation to Natalie Rodrigues, Simon Morrin, and Jeremy Driscoll from the group Engineers Without Borders.
The project that Natalie and her team are undertaking in Las Majadas, Guatemala was identified by the Peace Corp. A school of 300 students and faculty needs adequate toilet facilities. At present, they have only 5 outhouses. Her team proposes to construct a group of eight composting toilets (four in use) and (four fermenting). Limited water is available in this village of 5,000 people. Project completion is targeted for June 15, 2016. Our Kiwanis Club sent a donation of $50 to Engineers Without Borders for this project.